Stan Inges, 67 of Detroit.
"Say A Little Prayer moves me. I think about my mother, she loved that record when i was growing up. She is the queen of soul, she had so many hits, she is part of our lives."
Vicki McBride, 69 of West Blomfield.
Song: Respect
"She was the queen of America. Like we have the queen of England, she is the queen of America. She was beautiful, she loved God, she loved people. She touched our hearts. It is very important that I say to her "So Long! Well done!"
Kathy Cooper, 57 of Detroit.
Song: Rocksteady.
"Aretha Franklin used to be my next door neighbor on Sorrento and Outer Drive and I got to meet her at the age of 10. Her music is funky and soul. If you are going through hard times music will heal you."
Roxann Carter and Jonathan Flowers of Detroit.
Jonathan Flowers' Song: Respect
"I grew up on her music. It hits home for black folks."
Tornisha Moore, 33 and Antonio Moore, 31 of Detroit.
Song: Day Dreaming.
"It reminds me how I feel about my husband. Her music is about love and love is universal."
Shawn Vilk, 49 of Warren.
"The first time I heard Aretha I was in 7th grade with my walkman and I was on a long bike ride to go visit my dad who was in rehab. It was tough, I wasn't sure where I was going but I found my way."
Tamothy Orr, CQ 49 and her husband Wallace Orr, 68.
Wallace Orr: "I love Respect because it applies to everybody. Everybody should have respect and we don't. It's a long wait but we wanted to pay our respects. We love her and we gonna miss her."
Theresa Long, 60 of Detroit.
Song: Respect.
"You have to have respect for yourself and others and you will get it in return. I am drug free today. I am a recovering addict and if i was using I would not be here. I am proud to be in recovery."
James Brooks, 72 of Detroit.
Songs: Freeway of Love and Precious Memories.
Jerry Sproull, 66 of Rochester Hills.
"I had just finished 9 grade in Highland Park and we were going to Dodge park and I heard Respect, I was 14 and I love the song right away. She won me from the first song on."
Norman Siler Jr., 67 of Detroit
"So much of her work means everything to me, from amazing Grace to Respect. She was true to the essence of her being. She is an anointed cherub from God and everytime she opened her mouth to sing- whatever gendra- there was a connection of truth from experience that connected to the souls of the ears that that music went through."
Carlotta Wedge, 59 and Michael Lundy, 58 of Jackson, Florida.
Carlotta: "Slow ones, fast ones, great to dance to, kick back and enjoy."
Michael: "It was her voice, the message behind the music. I am more into her gospel.
Ronald Dockery, 64 of Detroit.
"I love Chain of Fools, I used to skate to this record."
Lori Lindsey, 52 of Southfield.
"I was a little kid raised up on her gospel songs. Aretha Franklin, Queen of Soul is part of Detroit history, world history. I wasn't able to pay my respect to Rosa Parks, an other Detroit icon and I wanted to be part of that."
Miss George, 64 and Kwame Asiedu, 83 of Detroit.
Song: Oh Mary don't you weep.
"The spiritual part of her songs is so effective and emotional for me that it relieves me from some of the stresses that's going on in my life and in the community. To me she is some kind of queen, some kind of gift because I wouldn't be standing here. I wanted to sing like her but never got the piano and she got it."
Charles McGee of Auburn Hills.
Song: Amazing Grace. "It hits the soul. It brings the city together."
"She stayed with us, she is local so we have to pay our respects."
Tonya Gaston, 50 of Harper Woods.
Sheila Cathey, 62 of Chicago, left and Rev. Bonnie Gardner, 68 of Redford.
Sheila Cathey: "When I was a child growing up, we had Until You Come Back To Me, Respect, Ain't No Way, Chain of Fools, we just got up and we danced and put on our mother's clothes and sache through our house like we were queens ourselves."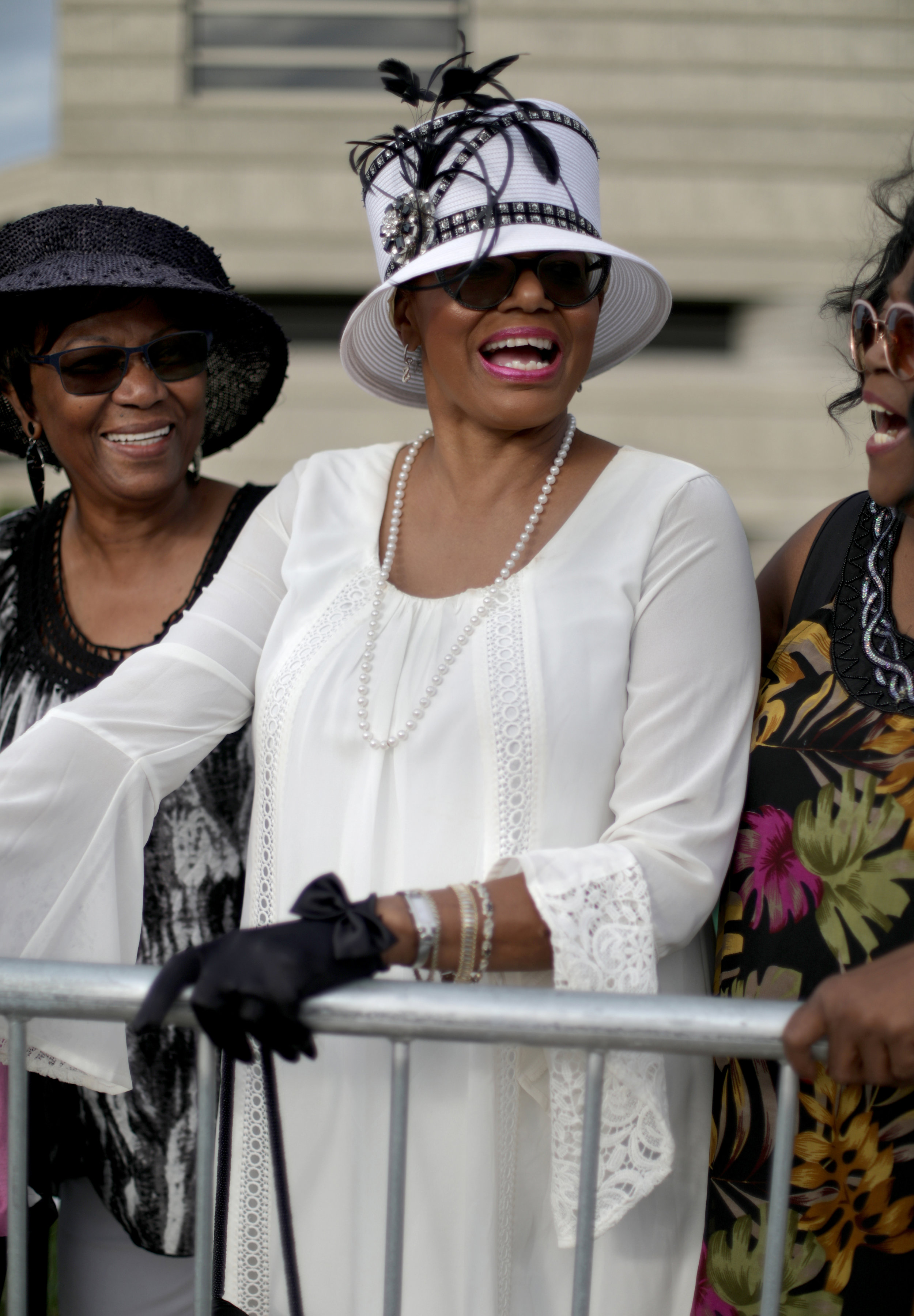 Rev. Bonnie Gardner, 68 of Redford, MI from left DeLoris Taylor, 63 of Kathleen, Ga. and Pat Bryant, 68 of Tennille, Ga.
DeLoris Taylor's song: Call me.
"I have been separated from so many loved ones in my life that I want them to call me the moment they get there.
Pat Bryant, 68 of Tennille, Ga.
Song: Ain't no way.
"Ain't no way without love and understanding. And you know she was born in Memphis Tennessee and I was born in Memphis Tennessee. So that's my home girl and I would not have missed it (being at the viewing) for the world. I am glad to be here with all my girls. This is a girls trip but this is an Aretha girls' trip."
Mary McDonald, 75 of Southfield, left and Denise Washington of Highland Park. The two women just met while standing in line.
Denise Washington: "When you have negative thoughts, you listen to her records and her music makes you feel more positive and better about yourself. I wanted to celebrate her last day with everybody, her music was very important to the people in the motor city."
Dedrah Commage, 56 of Clinton Township.
Song: Mary, Don't You Weep.
"It's very touching. It just moves me. It makes me feel really good. It's a good gospel song. You can feel everything she is saying in the song and it brings tears to your eyes."
Jhayla Viena, 8 and her mother Sandra Viena of Detroit.
Jhayla's favorite song: Gotta Find Me An Angel.
Mary McCollough, 70 of Southfield.
"I just wanted to see her. It is very important. We came in our bus. I was the first one signing up! Her music means everything."
Charlotte Gooden of Gary, Indiana.
Galyin Rose, 57 of Chicago.
"When I think of Aretha I think respect, strong, beautiful, diva, determined, tenacious, she was all these things and more."
Rokstarr, 39, right and her mother Beverly Odums, 60.
"This is not sad, it is just beautiful," says Rokstarr about people getting together to pay their respects to Aretha Franklin.
Rokstarr's Favorite Aretha song: Wonderful.
"I lost my grand mother this past july and now with the queen of Detroit passing it brought all kinds of memories, but happy memories. She was a beautiful soul."
Carl Lawson, 25 of Taylor.
"I like Knock On Your Door. It's the words, the way she sings the song. There is no other artist that sounds like her. It speaks to us her people and all people. To see so many people here and how she changed so many people lives, each and everyone here has a story being told through her songs."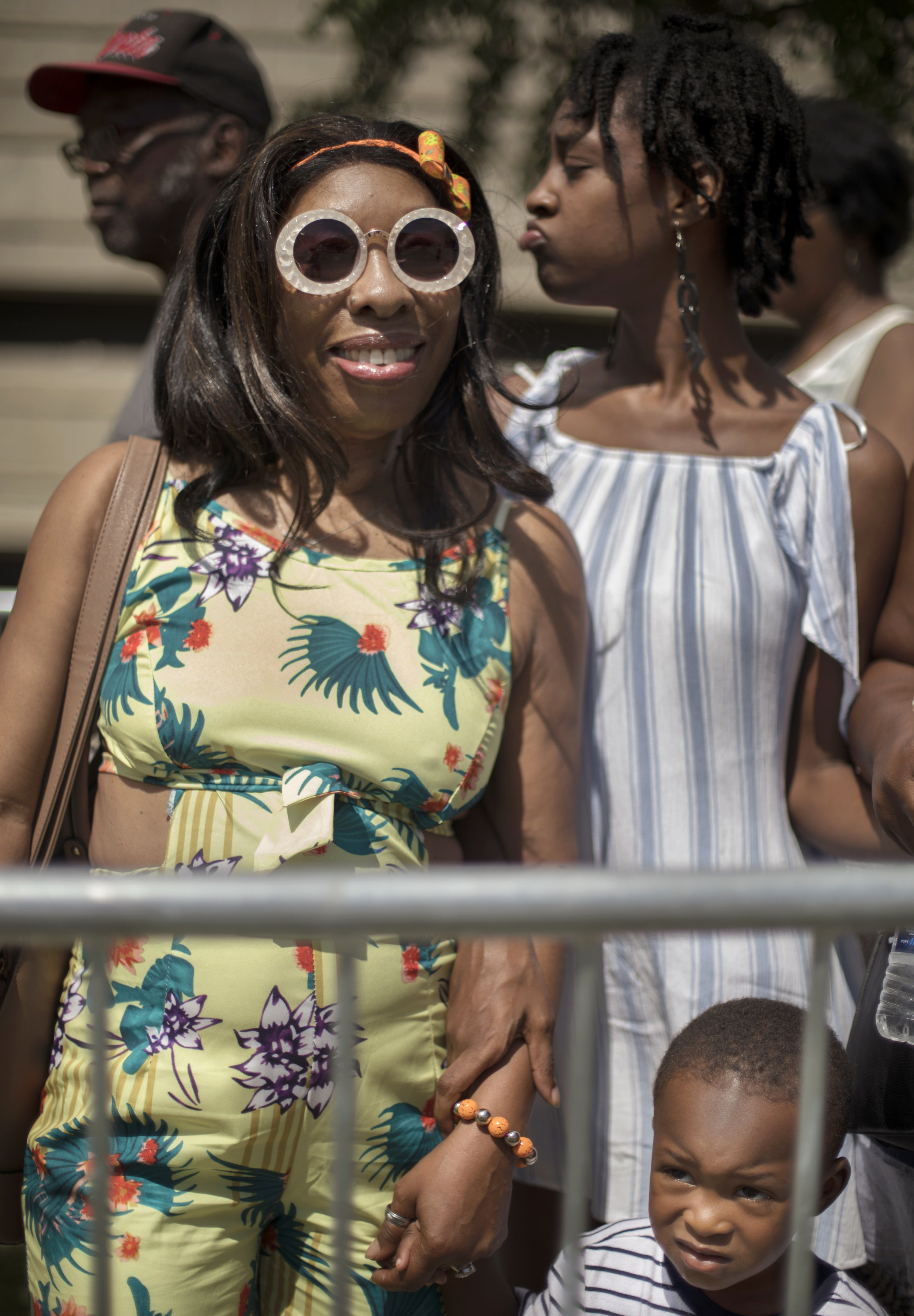 Maderia Porter of Southfield, from left Trenice Cortner, 28 and Jacob, 2 of Detroit.
Trenice Cortner, 28 back left and Patricia Cortner, 60 and Jacob, 2 front left and James, 3 of Detroit.
Patricia Cortner's favorite Aretha song: Respect.
"Everytime I hear that song I tear up. My mom and dad was fighting back then and I started screaming "You got to respect her!" and after that my dad moved out."
Tiny, 72 of Detroit.
"Aretha's music lifts me up, it makes me do good things because she was a good person."
Nye'Yoka Readous, 19 from left Wanda Kennedy, 60 and Stephanie Dixon, 34 all of Detroit.
Nye'Yoka Readous: "I love Aretha. I love Respect because it is important to be respected. We need to be respected"
Natalie Hayes, 28 of Detroit.
"R. E. S. P. E. C. T., that is my song! Growing up as a young girl in Detroit I went through some trials and tribulations and that song was part of my healing. I love how she was always elegant and a lady to our hearts. It's important to show respect, she is an icon and you can never get this back."
Kim Bradley, 50 of Detroit from left with her siblings Krystal Troutman, 56 of Detroit and Phillip Troutman, 50 of Southfield.
Krystal Troutman: "Don't, don't do it, .... it hits the soul. I used to skate and it made me skate even better. She showed her love throughout the world, she sang for Detroit and that is why we are out here showing her respect. We embrace her with love."
Jonathan Townsend, 33 of Pontiac, right and Gregory White, 65 of Shelby Township.
"I really loved her, she was a sweet lady and this is an important part of history," says Jonathan Townsend who is holding a photograph of himself with Aretha Franklin taken at a gospel concert she was hosting at New Bethel Baptist Church in 2016.
Patricia Crump, 62 of Detroit.
Song: Chain of Fools.
"She is letting you know don't take no stuff, don't take no mess, don't be no fool for no one. Her music gives me strength."
"I am wearing this beautiful stretch dress, one size fits all and you feel like Aretha Franklin in this dress."
Durelle Cooper, 61 from left Tonia James, 49 Esther Luise Vann- Doyle, 55 all of Detroit.
"My dad painted Aretha's house!" proclaimed Esther Louise Vann- Doyle proudly. And we share the same middle name, she added.
A. Christina Rucker of Detroit and Earlester Monroe of Saint Claire Shores, right
came with their girlfriends to pay their respect to Aretha Franklin at a public viewing at the Charles H. Wright Museum of African American History in Detroit on Wednesday, August 29, 2018.
Sheila Walker, 58 of Lansing.
Song: Dr. Feelgood.
"It's an historical moment. I grew up with Aretha Franklin, her roots are in the church, by me being a christian, my parents listening to her father Reverend CL Franklin, I got to pay tribute to the queen today."
Tyrone Kirkland, 50 of Flint, left and his brother Thomas Kirkland, 53 of Ann Arbor.
Tyrone Kirkland: "I love Dreaming, I love Respect, I love Call Me. I like a lot of her older stuff and of course the entire gospel. The Amazing Grace album is phenomenal, that's in our bloodline and our whole entire family, we purchased that album many times."
"She was a part of my life, my soul. I don't know life without Aretha Franklin. She is a part of my fabric and my entire family."
Vernita Turner, 63 from left Margo Wilson, 67 and Vanita Campbell, 62 all of Detroit
get ready to release balloons in the shape of white doves while waiting in line to pay their respect to Aretha Franklin at a public viewing at the Charles H. Wright Museum of African American History in Detroit on Wednesday, August 29, 2018.